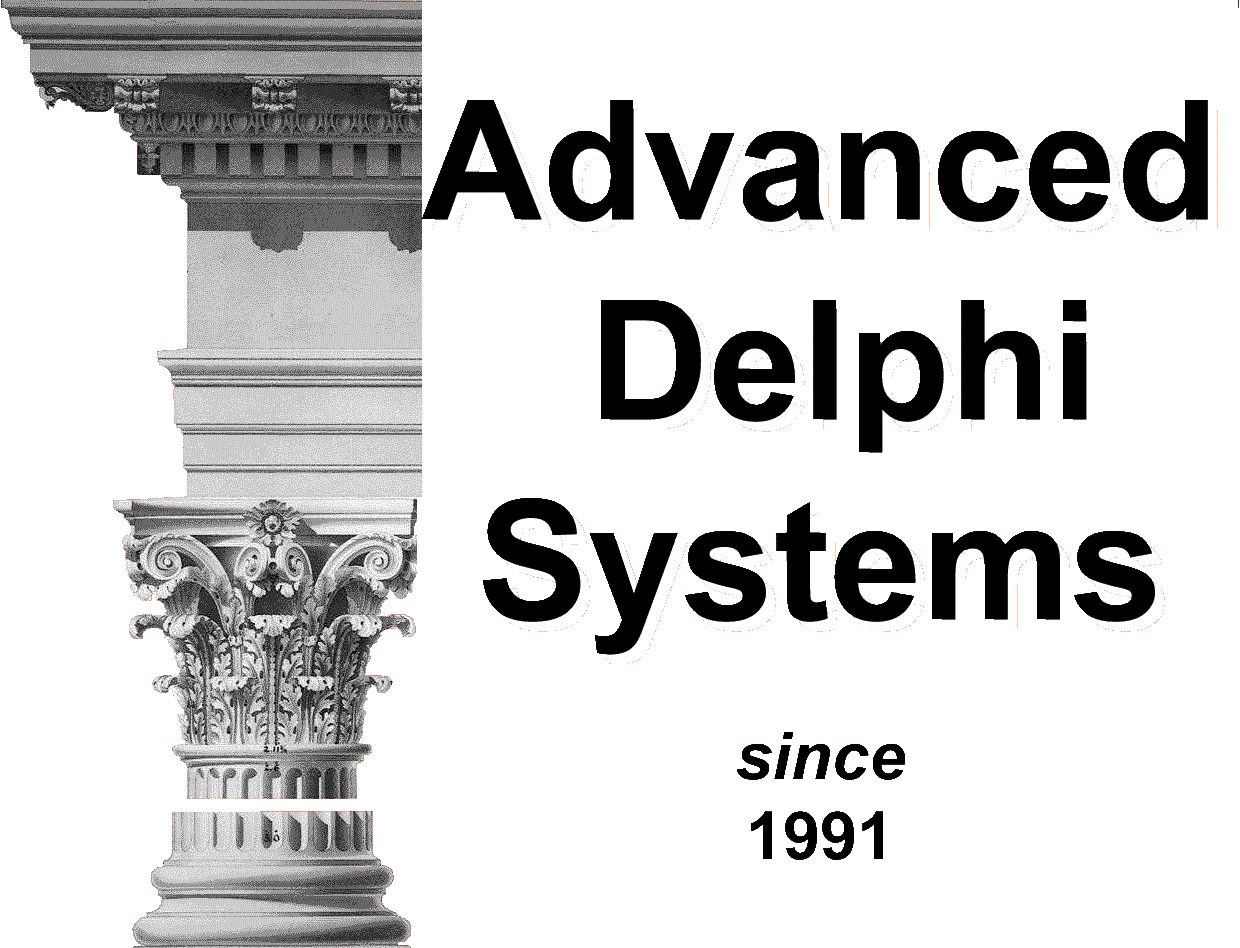 RICHARD L. MALEY
12613 Maidens Bower Drive
Potomac, Maryland 20854
Phone (301) 840-1554
Mobile (240) 604-1702
dickmaley@advdelphisys.com
http://www.advdelphisys.com
SUMMARY
Architect, Analyst, Developer and Technical Lead: (1991-Present) VA (Veterans Affairs), HHS (Health and Human Services), CMS (Centers for Medicare and Medicaid Services), DOL (Department of Labor), BNA (Bureau of National Affairs) and RTC (Resolution Trust Corporation).

Executive Secretary (GS-15) of the Navy DSARC (Defense Systems Acquisition Review Council) under the Secretary of the Navy.

Senior Strategic Planner for Unisys Corporation in Blue Bell PA.

Second place winner of "Application of the Year".

One of the original developers of Delphi.

Senior management experience in information technology, serving government and industry. Positions and experience include Architect of the Virtual Lifetime Electronic Record Data Access Services Project at VA, Solution Architect for the Medicare re-engineering project, Senior Developer/Architect for the Employment Standards Administration at DOL, President of Advanced Delphi Systems, Senior Strategic Planner of Unisys reporting to the CEO, VP of Market Development and Planning for SASC reporting to the CEO and Executive Secretary of the Navy DSARC reporting to the Secretary of the Navy.

Proven track record that ranges from managing very large organizations ($2.5B, 26000 people, 45 business units) to hands on production coding.

CERTIFICATIONS:Android Developer, Angular Developer, AWS and DevOps, AWS, Azure Developer, C Developer, C++ Developer, Delphi Developer, English Comprehension, Excel, Git, HTML/CSS and JavaScript, HTML, CSS, JavaScript, Java, and SQL Developer, HTML/CSS, Java and SQL Developer, Java Developer, JavaScript Developer, JavaScript with jQuery, Math, MySQL and SQL Developer, Node.js, Oracle PL/SQL and SQL Developer, Project Management, Python Developer, Scrum Master, Software Engineering, SQL Developer.
PROFESSIONAL EXPERIENCE
ADVANCED DELPHI SYSTEMS, Potomac, MD (1991-Present) President

Architecture and Application Development:
International Automotive Software Company: Architect and lead developer of the enterprise wide configuration management system for maintaining all client software configurations deployed around the world. The system was developed with Embarcadero Rad Studio 11.1 Alexandria.

DOL Wage and Hour Division: Analyst and Developer maintaining all (more than 50) of the Wage Hour Software Applications. These applications spanned many different technologies and programming languages.
Veterans Affairs:

VLER DAS (Virtual Lifetime Electronic Record Data Access Services) Project: Architect: The VLER DAS Project facilitates the exchange of veteran/Service member medical records between DOD, VA, CMS, Social Security and contract medical facilities. VLER DAS is designed for high performance with nodejs.

VistA Imaging: Lead developer and System Architect of Vista Imaging "TeleDermatology" Project. This project added Dermatology to the suite of specialties available via telemedicine. All Vista Imaging applications were affected by this project. This is the first project to offer conversion of images to DICOM format using the VistA Imaging client applications.

Project ARCH (Access Received Closer to Home): ARCH is a sub project of the EVEAH (Enhance the Veteran Experience & Access to HealthCare) initiative. Analyst planning future increments. Full implementation of Agile/SCRUM methodologies.

Registries System Architect: CCR, DVEIR, EFR, ONC, TBI Instruments,TBI PolyTrauma,TBI and VITAs.

CAPRI Project Senior developer maintaining the Compensation and Pension Record Interchange (CAPRI) project. This application is in daily use at every VA medical facility. CAPRI is a very large Delphi client-server application with direct access to VISTA, mumps, fileman, DOD, CPRS, Automated Medical Information Exchange (AMIE) and many other VA systems and organizations. CAPRI has been in production since 2000. CAPRI has many thousands of users. Aggressively refactored the code base to improve long term maintainability, stability, and quality of the application.

My HealtheVet Secure Messaging: System Architect and lead developer of the Secure Messaging(SM) Project. This system allows clinicians and patients to communicate in a completely secure manner. SM integrates with "My HealtheVet", CPRS and VISTA.

Department of Homeland Security

Department of Homeland Security Mobility Assessment Project: Developer and analyst. Evaluated the feasibility of using mobile devices in high profile field operations. Tested Apple, Android, Blackberry and Windows smartphones and tablets in different form factors in various agency directed scenarios. Evaluated native versus HTML5 applications in all operating systems. Developed 4 working prototypes that operated in a simulated agency network. All work was accomplished in an agile SCRUM process.

Health and Human Services:

Centers for Medicare and Medicaid Services (CMS): Solution Architect for the Medicare and Medicaid reengineering project, Development Effort Consolidation Contract (DECC), Physician Quality Reporting System (PQRS).

Electronic Medical Record System: Developer, analyst, architect. Migrated the DMIS (Disaster Medical Information System) Electronic Medical Record system to the Android mobile platform.

Application of the Year: Developed the Oasis Claims Management system for the US Department of Labor. This application supports 1000 claims examiners in locations throughout the United States. This system is designed to handle 5 million documents a year with zero tolerance for data loss. The Oasis application employs IBM's WebSphere in the middle tier, DB2 as the database, IBM MQ Series as the fail safe communication mechanism between regional, national and backup sites, Multi-Terabyte Network Appliance servers for image storage, Optical Jukeboxes for archive storage, and numerous development languages including Delphi(Pascal), C++, Java, CORBA, and Microsoft COM. Was awarded second place in the Annual Competition for best application of the year (Press Release) (Magazine Article) for development of the Oasis system. First place was awarded to Enron. This was very stiff competition and a significant honor.

Senior Architect: At the Department of Labor, Employment Standards Administration, Senior Architect/Application Developer for an organization of more than 5000 employees. Built ESA into a "Center of Excellence" recognized by industry and developers around the world. Fostered synergy and technical growth of the entire development community. Hosted many technical presentations by world famous developers: David Intersimone, Charlie Calvert, Danny Thorpe, Steve Taxiera, Ray Kanopka and many more.

Web Applications: Developed the Department of Labor Wage Hour Division Web applications. (WebSphere, DB2, linux, java, html, asp, unix, jsp, ssl, shell, ssh, eclipse, RAD, Rational Application Developer, xml, Rational Suite, Clearcase, StarTeam, Informix, sql, IBM Control Center, IBM Development Center, WebLogic)

Government Paper Elimination Act (GPEA): The Department of Labor Employment Standards Administration receives more than 4 million form submittals from the public each year. The GPEA act required that most of these submissions be possible over the web. I developed a totally generic toolkit and framework for migrating all forms. All forms were converted to pdf. Each form was made fillable, with complete field validation, inter field logic, and a full suite of generic routines for printing, emailing, signing etc. Each form is like a complete application deployed over the web in a completely secure pdf format (certified, encrypted, ssl). With the assistance of this toolkit, Adobe Acrobat, Adobe Document Extensions Server, and IBM WebSphere all forms were made GPEA compliant. Although the GPEA law mandated that ALL Federal Government Agencies comply by October 21, 2003, very few agencies are meeting the challenge. (Acrobat, pdf, WebSphere, Javascript, java, digital signatures, apache, ssl, db2, forms)

Trading System: Developed and fielded the Options/Futures Trading system for Statoil, the 5th largest oil company in the world. Additionally, produced over 20 mission critical client server applications for Statoil, a Norwegian energy production and marketing company. All of these applications employed Delphi.

Publishing System: Developed a mission critical multi-million dollar client server publishing application for the Bureau of National Affairs (BNA).

Delphi Users Group: Founder and past President of the Washington DC area Delphi Users Group. At its peak this group boasted 700+ members.

Delphi since 1994: Developing in Delphi since 1994. Worked with Borland in the development of the beta version of Delphi. Have used all versions of Delphi since 1994 including Kylix.

Training: Developed the official Borland "Advanced Database Design" classroom courseware. This was contracted by Borland. Taught Acquisition Management to DOD executives.

Application Areas: Medical Imaging, Patient Records, Secure Messaging, Claim Management, Finance, MIS, Investigations, Marketing and Business Development, Strategic Planning, Publishing and others.

Corporate Information Management (CIM): Managed development of the "Enterprise Model" for CIM (Corporate Information Management), a multi-billion dollar Information Technology program for DOD.

Clients: Veteran Affairs, DOL, DOD, RTC, BNA,DISA, CDSI, Burch and Davis, Timeplex, RJO

All Sizes: Numerous fielded systems ranging from $20M to $1K in development costs.

Software Development Life Cycle Management (SDLCM): Total Life Cycle Software Development and Maintenance experience on numerous fielded applications. This includes functional business analysis, use cases, modeling, UML, block diagrams, flow charts, translation from requirements to working software, unit, functional, regression testing, documentation at all phases of development, testing and fielding, performance analysis and fixes, training, mentoring, business process reengineering(BPR), QA, risk analysis.
Strategic Planning and Business Development:
Consultant to 4 CEO's and DISA

Restructured Business Development processes to improve win rates at a public company. This $100 M company went from a 2% win rate and meager sales to $350 M in sales the next year.

Ran strategic planning retreats for public companies. These meetings spanned 3 or more days, were intensely interactive and established new corporate directions.

Developed business process improvement and functional economic analysis studies for an international communications company and selected other clients.

Developed and evaluated strategic, operational, business, functional and other plans for a variety of public and private companies.

Developed Research and Development program for Washington based company.
UNISYS, Blue Bell, PA, Senior Strategic Planner(1986-1991)
Reported to the CEO.

Developed and implemented International Marketing Information System that integrated Business Development, Planning and Finance.

Created and ran international Strategic Planning organizations for every Unisys group.

Engineered "Strategic Initiatives" in Communications, Systems Integration and International markets.

Managed Organization which spanned 45 Business Units with $2.5 Billion in revenues.

Communicated plans to management, employees and public through speeches, discussion groups and periodicals.

Achieved extraordinary plan to actuals performance by linking strategic objectives to the personnel incentives system.

Revamped R&D program to achieve maximum "Bang for the Buck".

Applied Total Quality Management to planning thereby continuously improving the process.

Achieved 100% win rate on 6 major proposals capturing $550 million in new business.

Spearheaded market study resulting in a 24 volume/10,000 page detailed "Market Contact Plan" that focused sales force activities and increased revenues.

Energized competitive edge and synergy by fostering interdivisional teaming resulting in 500% improvement.

Managed business for bottom-line performance (profit and ROI improved 5% annually).

Merged Divisions of Sperry and Burroughs Corporations.

Designed and implemented bid-no-bid and executive review processes.

Focused marketing on "core" businesses and strategic thrusts.

Produced Strategic, Operations, Technology, and functional plans.
SYSTEMS AND APPLIED SCIENCES CORPORATION, Vienna, VA, Vice President for Strategic Planning(1985-1986)
Won $120M GSA Region contract.

Postured company as a strategic acquisition.

Managed corporate wide planning organization.
OFFICE OF THE SECRETARY OF THE NAVY, Pentagon, Arlington, VA, Executive Secretary of the Navy DSARC (1982-1985)
As Executive Secretary of the Navy DSARC (Defense Systems Acquisitions Review Council) managed all of the Navy's major programs $30 Billion.

Annually testified to Congress on acquisition policy, programmatic and budgetary issues.

Wrote annual Posture Statement to Congress.

Top Secret clearance.

EDUCATION

MIT, Cambridge, MA, Naval Architecture

George Washington University, Washington, DC, Engineering Administration, Masters in Engineering Administration

Catholic University of America, Washington, D.C, Naval Architecture

Siena College, Loudonville, N.Y., Physics, BS

AWARDS

19 awards/honors received from the Secretary of the Navy, Chief of Naval Material, Commander Naval Sea Systems Command, professional societies, Borland International and others.

EXPERTISE SUMMARY

Application Servers: BEA, Blazix, Borland Enterprise Server, GlassFish, JBoss, Oracle 11g, Oracle 12c, Tomcat, WebLogic, WebSphere

Applications: Business Objects, CCR, ClearCase, ClearQuest, Clinical Case Registries, CoreFTP, CruiseControl, Crystal Reports, CVS, Dragon Naturally Speaking, DVT Toolkit, Ensemble, ERWIN, Eurekalog, ExamDiffPro, Excel, Exchange, FileZilla, Garmin, Gexperts, GIT, GreenHopper, HTMLTidy, Hudson, IBM Rational Suite, JAWS, JBuilder, Jenkins, Jira, Jira Agile Velocity Tracking plugin, Lotus Notes, MagTeleReader, Malwarebytes Anti-Malware, Maven2, Microsoft Office, Microsoft Project, Microsoft Visual Studio, Model Maker, Opera, Outlook, PowerPoint, PVCS, Rational ClearCase, Rational ClearQuest, Rational Quality Manager, Rational Requirements Composer, Rational RequisitePro, Rational Rose, Rational Team Concert (RTC), ReportBuilder Pro, RequisitePro, Safari, Schematron, Sharepoint, Splunk, Subversion, SVN, Vista Rad, Visual SourceSafe (VSS), Visual Studio, Word, XMLSpy

Architectures: Client Server, Clinical Document Architecture (CDA), Department of Defense Architecture Framework (DoDAF), Enterprise Service Bus, ESB, FEA, Federal Enterprise Architecture, Service Oriented Architecture, SOA

Business Development: Capture, Marketing, Proposal, Red Team, Request for Information (RFI), Request for Proposals (RFP)

Databases: Access, Advantage, Cache, Database Design, DB2, DBase, Firebird, Informix, Interbase, InterSystems, MySQL, Oracle, Paradox, Sql Server, Sqlite, Sybase, Teradata

Development Environments: Acrobat SDK, Adobe Acrobat, Adobe Illustrator, Adobe ImageReady, Adobe PhotoShop, Apache, Delphi, Delphi 1 thru 7, Delphi 2007, Delphi 2010, Delphi XE3, Drupal, Eclipse, Embarcadero RAD Studio 10 Seattle Architect, IBM Control Center, IBM Development Center, Lazarus, Morfik, NetBeans, Notepad++, Olympus SDK, OmniForm, OmniPage Pro, Rational Application Developer (RAD), StarTeam, Tomcat, WSAD

Disciplines: Account Executive, Account Manager, Analyst, Application Development, Architect, Business Analyst, Business Development, CEO, Change Control, Change Management, Chief Architect, CIO, Configuration Control, Congressional Liaison, Consultant, COO, CRM, Customer Relationship Management, Customer Support, DBA, Director, Domain Experts, Engineer, General Manager, Information Technology, Manager, Marketing, Modeling, Naval Architect, Organization Change, Physicist, Planning, President, Product Manager, Project Management, Project Manager, Proposal Development, Publicity, Ship Designer, SME, Software Development, Software Engineering, Solution Architect, Strategic Planning, Subject Matter Expert, Supervising, System Architect, Technical Lead, Vice President, VP

Graphics: Accusoft, AVS4You, ExifUtils, FocusMagic, ImageEn, ImageGear, Imagelib, MagImageCapture, MagImageDisplay, NeatImage, OpenGL, Panorama Maker, Pegasus, PhotoShop, PhotoStudio, Picasa, PortraitProfessional, PTLens, Visio

HHS: ACA, Accountable Care Organization, ACO, ADO, Affordable Care Act, and SCHIP Extension Act, Application Development Organization, Centers for Medicare and Medicaid Services, chronic kidney disease, CKD, Claims Registry EHR Warehouse, CMS, Consolidated Renal Operations in a Web Enabled Network, CREW, CROWNWeb, Data Submission Vendor, Disaster Management Information System, DMIS, DSV, Electronic Health Record, Electronic Medical Record, Electronic Prescribing, Eligible Professionals, EMR, End Stage Renal Disease, EPs, eRx, ESRD, Fee For Service, FFS, GPRO, Group Practice Reporting Option, HCQIS, Health and Human Services, Health Care Quality Information System, Health Information Exchange, Health Information Technology for Economic and Clinical Health, Health Insurance Portability and Accountability Act, HIE, HIPAA, HITECH, HMAT, Humanitarian Medical Automation Project, IACS, IDR, Individuals Authorized to access CMS Systems, Information Security Risk Assessment, Information Systems Group, Integrated Data Repository, ISG, ISRA, Maintenance of Certification, Maintenance of Certification Programs, MAV, Measure Applicability Validation, Medicaid, Medicare, Medicare Improvements for Patients and Providers Act of 2008, MIPPA, MMSEA, MOC, MOCP, National Disaster Medical System, National Level Repository, National Provider Identifier, NDMS, NLR, NPI, NPPES, O&M, OCSQ, Office of Clinical Standards and Quality, Office of Research Development and Information, Operations & Maintenance, ORDI, PDE, PECOS, PECOS Data Exchange, PFS, Physician Fee Schedule, Physician Quality Reporting Initiative, Physician Quality Reporting System, PIA, PIM, PMBR, Potentially Inappropriate Medication, PQRI, PQRS, Privacy Impact Assessment, Program Management and Business Requirements, Provider Enrollment Chain and Ownership System, QIO, QRDA, QRUR, Quality Improvement Organization, Quality Reporting Data Architecture, Quality Review Utilization Reports, RDS, Report Distribution System, Reporting Integration Module, RIM, SCHIP, State Children's Health Insurance Program, Target Enterprise Architecture, TATRC, Tax Identification Number, Tax Relief and Health Care Act, TEA, Technical Reference Architecture, Technical Review Board, Telemedicine and Advanced Technology Research Center, The National Plan and Provider Enumeration System, TIN, TRA, TRB, TRHCA

Industries: Accounting, ADP, Advertising, Army, Banking, Chemical, CISCO, Commercial, Computer, Computer Software, Consulting, Credit, Defense, DOD, DOL, Facilities, Finance, Food, Forest Products, Government, Government Relations, Health Care, Healthcare, Hospital, HR, Human Resources, IBM, Insurance, International, Law Enforcement, Legal, Logistics, Maintenance, Manufacturing, Medical, Metals, Minerals, Mining, Navy, Non Profit, Petrochemicals, Petroleum Exploration, Petroleum Production, Pharmaceutical, Pipelines, Plant Based Systems, Power, Printing, Procurement, Professional Services, Public Relations, Publishing, Refining, Retail, Shipbuilding, Specialty Chemicals, Technology, Telecom, Transportation, VA, Veteran

Management: Coordinate, Good will, Interface, Operations, Product Development, Product Management, Product programs, Program development, Project, Promotional activities, Relationships, Team, Trade Shows

Medical: Annotations, ASC X12, CAT Scan (CT), Cine, Clinical Context Object Workgroup (CCOW), Consults, CPRS, CPT, Current Procedural Terminology, Dermatology, EHR, Health Level Seven (HL7), ICD-10, ICD-10PCS, ICD-9, Imaging, Informatics, MRI, National Commission for Quality Assurance, Nationwide Health Information Network, NCQA, NHIN, Pathology, Patient Records, Podiatry, Rad Viewer, Radiology, SNOMED, Sonogram, Store-and-Forward, TeleDermatology, TeleMedicine, Teleradiology, Veterans Affairs, Wound Care, X-ray computed tomography

Methodologies: Agile programming, BPEL, BPM, BPMN, Business Process Execution Language, Business Process Modeling, Business Process Modeling Notation, Business Process Reengineering (BPR), Capability Maturity Model Integration, CMMI, Coding, collaboration software, continuous integration, Debugging, Extreme Programming, Functional specifications, Innovative development, PMAS, Process Re-engineering, Rapid Application Development, Rational Unified Process, Refactoring, Requirements, RUP, SDLC, Software Development Lifecycle, Software Quality Assurance, SQA, Testing, TFA, Two Factor Authenication, Unified Modeling Language, XP

Mobile Development: ADT, AirWatch MDM, Android, Android Development Tools, Android NDK, Android SDK, Angular.js, Backbone.js, Blackberry, Bootstrap, CSS3, Google Play, HTML5, iOS, jQuery, jQuery-mobile.js, json, MDM, Mobile Device Management, Moment.js, Require.js, Samsung Galaxy Note II, Underscore.js, Windows 8

Nodejs: async, cluster, config, connect, crypto, datejs, express, fs, http, https, jsonpath, mime, mongodb, npm, os, redis, redisqueue, request, retry, retryconfigoptions, string, underscore, url, winston, xml

Operating Systems: AIX, Linux, Solaris, UNIX, Windows .NET, Windows 2000, Windows 3.1, Windows 98, Windows DOS, Windows XP

Oracle: ADF, Application Development Framework, Fusion Middleware, Identity Management, JDeveloper, SOA Suite, Sql Developer, WebCenter

Performance: Benchmarking, Highest returns, Profitability, Revenue growth, Scalibility

Planning/Analysis: Basis Of Estimate, BOE, Competitor analysis, Competitor strategies, Deployment strategies, Development roadmap, Differentiated solutions, Goals, Issues, Market-driven, McKinsey, Milestones, Network availability, New applications, New markets, New products, New solutions, Objectives, Priorities, Product plans, Product strategies, Quality, Recoverability, Regulatory Standards, Reliability, Risk Analysis, Sales, Schedules, Security, Strategic plans, Tactical plans, Technical analysis, Timelines, Trend Analysis, Troubleshooting, WBS, Work Breakdown Structure

Programming Languages: Active Directory, Ada, ASP, Assembly, C, C#, C++, Cache, Cognos, CSS, DBASE, Delphi, DHTML, ECMAScript, FileMan, FORTRAN, FreePascal, HTML, Informatica, Java, JavaScript, JScript, JSP, Kylix, MUMPS, PAL, Pascal, PascalScript, PL/SQL, Postscript, Procedural Language/Structured Query Language, Python, RPC, SGML, Smalltalk, SQL, Swing, VBA, VBScript, Vista, Visual Basic, Workflow, XHTML, XML, XSL

SDLC: Acceptance, Business Requirements Document (BRD), CA, Conceptual Architecture, DDR, Deployment, Deployment Plan, Design, Detailed Design Review, Development, Development Test and Evaluation (DT&E), DPLAN, ELC, Expedited Life Cycle, ILC, Implementation, Integrated Project Team, Integration Testing, Investment Lifecycle, IPT, National Release, Operational Test and Evaluation (OT&E), PDR, Performance Work Statement (PWS), PMP, Preliminary Design Review, Project Management Plan, ProPath, Requirements Analysis, Requirements Specification Document, RSD, SDD, Software Design Document, Software Development Life Cycle, Software Quality Assurance, SQA, SSP, Statement of Work (SOW), System Design, System Security Plan, Test Plans, Testing, Unit Testing

Scrum: Abnormal Termination, chickens, Completed, core roles, Daily Scrum, Definition of Done, DoD, estimate project velocity, Impediment, measure project velocity, Ongoing, pigs, Planning Poker, Point Scale, Product backlog, Product Owner, regression tests, release burndown chart, requirements churn, Sashimi, ScrumMaster, sprint, sprint backlog, sprint burn down chart, sprint planning meeting, Sprint Retrospective, Team, timeboxed, Unstarted, velocity

Technologies: 2-Tier, 508, ADO, AJAX, BASS Audio, CCOW, Cloud Computing, COM/DCOM, Corba, Cyber Security, Data Modeling, DICOM, ETL, Extract Transform Load Data, Front-end interfaces, GUI, Hibernate, HL7, IBM HTTP Server, IBM MQ Series, Imaging, Indy, J2EE, JMS, Knowledge Management, Lightweight Directory Access Protocol (LDAP), Messaging, MQ Series, Multi-platform, Multi-Tier, N-Tier, NEMA, OBIEE, Object-oriented, OOPS, Oracle Business Intelligence Enterprise Edition, REST, RPC Broker, Services, SOAP, Sockets, Spring, Star Schema, Subclipse, TCP/IP, TCPIP, UML, Unified Modeling Language, Use Cases, Virtual Servers, VMware, Web Applications, Web Services, Web Technologies, Wireframes, XAMPP, XML Schema

Training: Career development, Classroom, Coach, Curriculum, Mentor, Teaching, Technical training

Veterans Affairs: ARCH, Bed Management System, BMS, CAPRI, CCR Registry, CPRS, DVEIR Registry, EFR Registry, EVEAH, Health Information Exchange (HIE), Healthcare Information Technology Standards Panel (HITSP), HIPAA, Meaningful Use, My HealtheVet, NIST Compliance, ONC Registry, Secure Messaging, TBI Instruments Registry, TBI PolyTrauma, TBI Registry, Virtual Lifetime Electronic Record, Virtual Lifetime Electronic Record Data Access Services (VLER DAS), VistA, VistA Imaging, VITAs Registry, VLER DAS